MOBO Awards 2006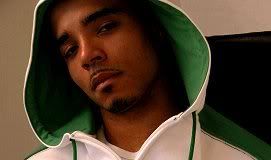 What do we want?
A jazz MOBO.
When do we want it?
After we've taken a twenty minute bass solo.
Bless 'em. Not only do those jazzers have to be content with permanent also-ran status at the Mercury Awards now the MOBOs won't give them owt. It's probably because their acceptance speeches start with a sentence which is then repeated in ever more incomprehensible ways until, after around half an hour, they are squealing into their own shoe.
A greater source of botheration for the MOBOs than jazz protests is that almost all music of black origin originated outside this country; which causes something of a problem when only Brits bother turning up. The MOBO nabobs had little choice but to honour Beyonce's frankness and honesty in naming her album after a bucket of piss. However, the crowd were less enamoured. When it transpired that she hadn't bothered dragging her jiggly arse along and loudly booed every mention of her name.
At least this was some sort of reaction from the crowd. Most poppy award shows fill up stage front with a pile of kids to provide some sugar and ASBO fuelled energy while the champers sucking big wigs are shunted to the sides. Not so with the MOBOs. It didn't help the atmosphere that the Albert Hall looked half empty.
On the upside, there was one exciting new act brought to my attention. Akala's name may be significantly more fruity than the likes of Ghostface Killah and Ol' Dirty Bastard (it's a
variety of Hawaiian berry
) but he saw off all the big name US rappers to take the award for Best Hippety-Hop. Akala is the brother of Ms Dynamite but don't let that put you off. Vocally he is far more aggressive and his tracks are packed with huge guitar riffs. I'd say it's the dizzle, pizzle and one may venture even so far as to declare it the shizzle.
Coventry: Steadfastly refusing to stand up.
But even here the Brit problem comes up. The song
Stand Up
is Akala's call for British hippety-hoppers to cast off Americanisms and show themselves. This sees him urging the likes of Luton and Coventry to stand up. Doesn't really have the same ring as Inglewood or Brooklyn. It reminds me of Billy Braggs tongue-in-cheek relocating of the romance of Route 66 on
A13 Trunk Road to the Sea
("By-pass Barking and straight through Dagenham, down to Grays Thurrock and rather near Basildon").
Pub trivia: Best selling black UK artist of all time? Billy Ocean. Lord, help us.
Akala - Stand Up
Buy
It's Not A Rumour
Listen to
A13 Trunk Road to the Sea
on the
Victoria and Albert Museum website
(no, I have no idea either).
Buy
Must I Paint You A Picture