Ukukulelele Pt.2
Type 'While My Guitar Gently Weeps' into YouTube and you might expect a video of The Beatles or George Harrison. You might, at the outside, expect While My Guitar Gently Smurfs (Side note: changing one word to smurf and relieving it of all sense isn't clever or funny so shut up you tiny, blue bastards). Actually, the first hit you get is
Jake Shimabukuro
. What do you mean "Who"?
The ukulele, contrary to popular perception, isn't just for gently strumming. It can also be used as an vehicle for virtuosity. There are a number of people staking their claim as the 'Jimi Hendrix of the ukulele'.
Shimabukuro's ukulele version of
While My Guitar Gently Weeps
caused an OK Go sized splash in the ukulele community. He often uses guiar effects pedals and heavy distortion and loves his classic rock. As you can see on this clip which also provides further proof that
Japanese telly is mental
.
Another Hendrix aficionado and ukulele screamer is 17 year old
Taimaine Gardner
. Here performing Dick Dale's
Pipeline
:
The original Jimi Hendrix of the ukulele was Roy Smeck. In fact it would be more accurate (but vastly less comprehensible) to describe Hendrix as the Roy Smeck of the guitar. He deserves a post of his own but in the meantime smack your chops around this bravura performance of
Tiger Rag
:
She could hardly be described as a virtuoso (she'd only been playing a couple of weeks at this point) but I can't resist another slice of Miranda Mahalo with her sprightly tunes and adorable, chipmunk face. Here she's covering Ben Harper's
Burn One Down
:
Music at it's best for the herbally refreshed
. You can follow Miranda's uke adventures on
Miranda Learns the Uke
.
I don't know if it's coincidence, family tradition or a stage name but Mahalo (as well as meaning 'thank you' in Hawaiian) are makers of fine ukuleles. Including these beauties: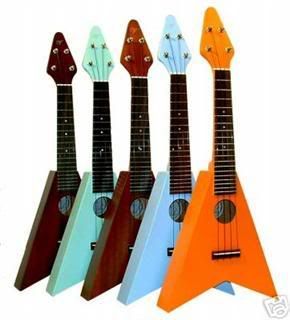 And to think I was going to wish for world peace and an end to poverty for Christmas.
Expect the uke posts to run and run.