Singles Released 4th December
Time for all music lovers to take cover as the shit storm of Christmas records makes its way ominously over the horizon. Early runners this week include Pugwash and Friends (the friends including Neil 'Divine Comedy' Hannon and Dave 'XTC' Gregory), I Monster, The Houghton Weavers and, inevitably, Slade.
Peak of the Week: Paolo Nutini - Rewind
He gets PotW on sympathy alone. The bloke develops a cracked, whiskey-soaked, soulful voice; lyrics full of regret and longing; and then people go and compare him to James Blunt. Poor sod.
Lil Chris - Getting Enough
Video of the week for the cheeky scampster. Running into the Buzzcock's garden and scrumping the chorus of
Ever Fallen In Love With Someone?
and dashing away as Pete Shelley shakes his fist and shouts, "You come back here wi' my tune ya thieving rapscallion."
The Rapture - Whoo! Alright-Yeah...Uh Huh
Zippety do dah! Giggady, giddady! And so forth.
The Rapture - Get Myself Into It
via
betterPropaganda
Kristeen Young - London Cry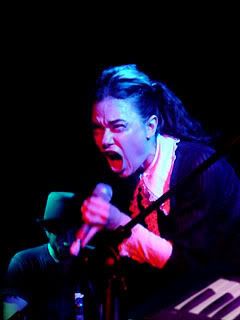 No shortage of A-list support for this metal Kate Bush. Signed to Morrissey's record label, produced by Tony Visconti, duet with David Bowie, and - make sure you're sitting down before you read this - a duet with Brian Molko.
Their website entreaties fans to
'please purchase at REAL, WALK-IN SHOPS.... Like Virgin or HMV. These are the only purchases that count for the British record charts.'
Even with such tactics, I somehow doubt this single is going to be troubling Take That too much; or even
The MacDonald Brothers
for that matter.